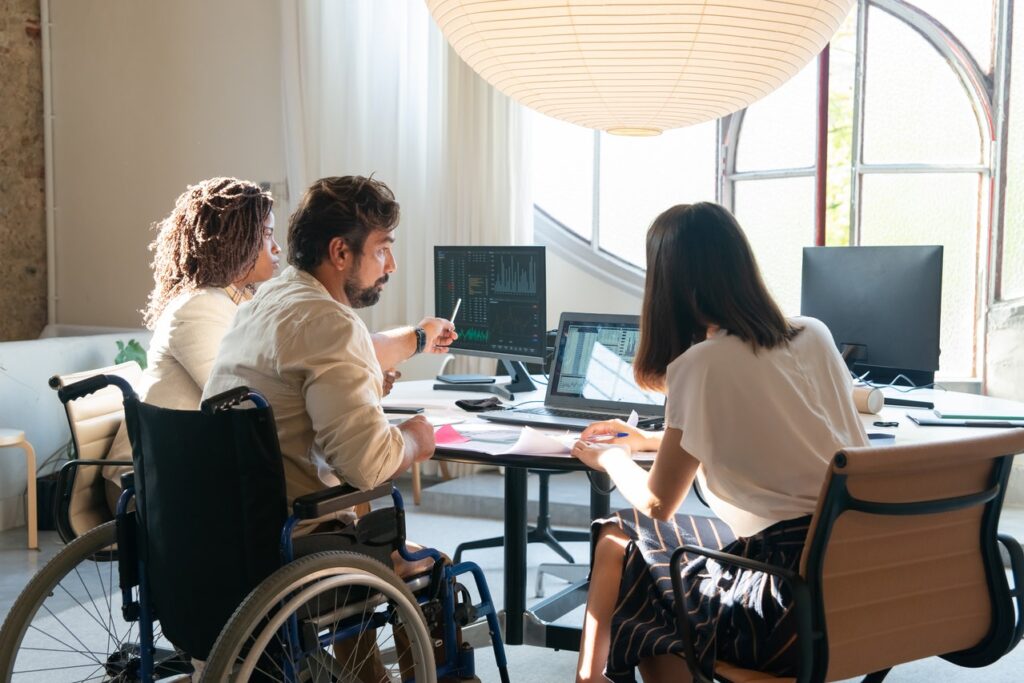 The Employment Future for Those With Disabilities Is Getting Brighter
People with disabilities, those with mobility limitations, or sensory loss, like blindness and deafness, either partial or total, and those with autism, PTSD, or other "silent," limitations are unemployed in greater numbers than their peers who are not held back by any of those limitations. Many employers today, though, are finding that hiring people with disabilities can be a positive move since those who have had trouble finding employment are usually far more likely to work harder and be more productive than others in their employ. Science is catching up too, advancing rapidly with inventions and technology that is correcting a lot of our under-utilization of those people who are anxious and eager to enter the workforce.
The following is brought to you by Future Business Ventures, Ltd. Co. This group provides employment to people with disabilities, especially US veterans and children, supports children with special needs, and participates in local community projects.
What Technology is Offering (a brief list)
● Adaptive Keyboards are adapted to compensate for the needs of their user, like raised areas between the keys, high contrast for the visually impaired, and foot or sip-and-puff switches.
● Augmented and Alternative Communication. One of the most famous is the AAC used by Professor Stephen Hawking.
● Screen Reader and Text to Speech Software.
● Optical Character Recognition software that turns images into text.
● For those with upper-body limitations is X-Ar, an exoskeletal arm that supports a user's natural range of motion.
What Employers Are Doing
● Improving access to all parts of their offices and outside entrances
● Providing specific facilities
● Allowing flexibility to attend medical appointments
● Removing physical barriers
● Adapting the workplace with furniture and lighting.
Entrepreneurship
According to the US Census Bureau, roughly 15% of people with disabilities own their own businesses, which is a significantly higher rate than the 10% of the general population who are business owners. Many people with disabilities are starting their own businesses from home with niche markets that target others who share that disability or turning a particular skill or hobby into a full-time business.
Sources of Help
● Disability:IN helps disability-owned businesses and disabled veteran disability-owned businesses to get certified and links them to organizations looking to diversify their supply chains.
● The Small Business Administration offers specific resources for those with disabilities who wish to find assistance with starting their own businesses
● Chamber of Commerce for People With Disabilities help those with disabilities and their caregivers to form and grow businesses
● Various states offer their own funding for disabled-owned businesses
Advancing Opportunity Through Education
The National Conference of State Legislators says an increased emphasis on a post-secondary education stands to disproportionately affect people with disabilities since they are less likely than their peers to earn a degree after high school. Much of this has been due to the limitations that university campuses present to those with disabilities. The ability to earn a degree online is changing all of that, opening up possibilities that were not there before. This increases the earning abilities of the disabled by a whopping 50% and more.
Careers in Information Technology are one of the fastest-growing and most highly paid with opportunities in a multitude of fields. Professions like Data Management, Software Development, and Cybersecurity are in high demand and an online IT Degree makes that attainable to those who have been previously excluded due to physical limitations. Lenders are more likely to invest in businesses owned by people with degrees also.
The employment future for those with disabilities is brighter than ever thanks to a better understanding of possibilities, a growing awareness of the need for accessibility, and more and greater technology stepping in to assist and augment physical limitations.
The Employment Future for Those With Disabilities Is Getting Brighter